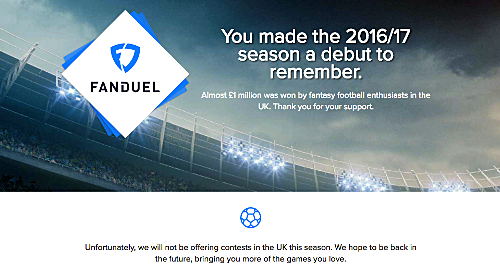 Daily fantasy sports operator FanDuel has shut its UK-facing site after less than a year to better focus on its core US market.
On Friday, customers of FanDuel.co.uk reported receiving emails informing them that the company "will not be offering contests in the UK this season." The operator suggested its Brexit might not be permanent, claiming it was "on hiatus for the 2017/2018 season" but hopes to "be back in the future, bringing you more of the games you love."
FanDuel received its UK Gambling Commission license in July 2016, and its UK-facing site launched the following month. Archrival DraftKings launched its UK site earlier that year, while Yahoo threw its hat into the UK ring last December.
FanDuel said its UK fantasy football customers had won "almost £1m" in its first year of operations, a rather paltry sum that confirms the company's inability to attract the same type of volume it has enjoyed in the US market. The jury remains out on whether DFS holds much appeal in markets like the UK, where punters have unfettered access to real-money, single-game sports betting.
FanDuel released a statement to the media saying the suspension would allow the company "to focus on our product in the US." With a new NFL season just around the corner, FanDuel will be "allocating all of our resources towards ramping up a US product that consumers love and building out complementary fantasy sports products."
Questions remain as to the extent of FanDuel's resources in the wake of this month's collapse of its planned merger with DraftKings. Documents filed in support of the merger revealed that both companies were blowing through money at an alarming rate, although FanDuel CEO Nigel Eccles recently stated that 2018 would be the company's "break-even year."
The post FanDuel shut UK daily fantasy sports site to focus on US market appeared first on CalvinAyre.com.
(c) CalvinAyre.com – Read entire story here.